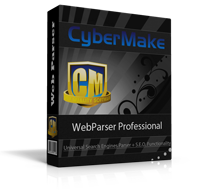 WebParser - SEO tools for Scraping web data, Backlink builder, High pr backlinks from Google, BackLinks Generation and more...
Universal and Robust Parser of URLs from Google, Yahoo, Bing and multiple other search engines. Recognizes most common and popular CMS systems.
WebParser seo tool is designed to parse Google, Yahoo, Bing or any other search engine. When a search engine is not included in the software, you can add yourself a custom search engine.
Search Query Parser. Multiple search engines can be engaged and parsed simultaneously thereby enabling collection of a larger database. Duplicates are filtered automatically.
Permits inclusion of unlimited number of key search phrases.
Scrape sowtware. Parses without proxy servers. Intelligent seo tools algorithms make search engines to think this is a real human searching the web. Also, WebParser automatically recognizes search engine CAPTCHAs by integrating with a third party CAPTCHA recognition service.
Built-in CMS analyzer will filter unnecessary CMS systems and retain only what is necessary.
Google URL Parser
WebParsers Plus SEO can Building backlinks and Building high pr backlinks
Backlinks google for off page optimization
Compatible with: Windows 7, Vista, XP, 2003, 2000 + All Windows SERVERS (+ Dedicated)
Gather data, email and postal addresses, phone numbers and other pertinent information on businesses, individuals and organizations. Widespread and steadfast harvester of data from the World Wide Web.
Universal software tool for data collection, marketing and target advertising purposes.
Determines leads for business.
Searches for pertinent data to accelerate advertising and sales initiatives.
Creates reference manuals with comprehensive set of phone numbers and email and postal addresses.
Integrated comprehensive WebParser Professional edition for robust parsing of search engine results.
Compatible with: Windows 7, Vista, XP, 2003, 2000 + All Windows SERVERS (+ Dedicated)